New memoir "I Choose the Moon" by Jonea Mounsey is released, an inspiring tale of bravery, following a dream, and embracing the challenges of a new culture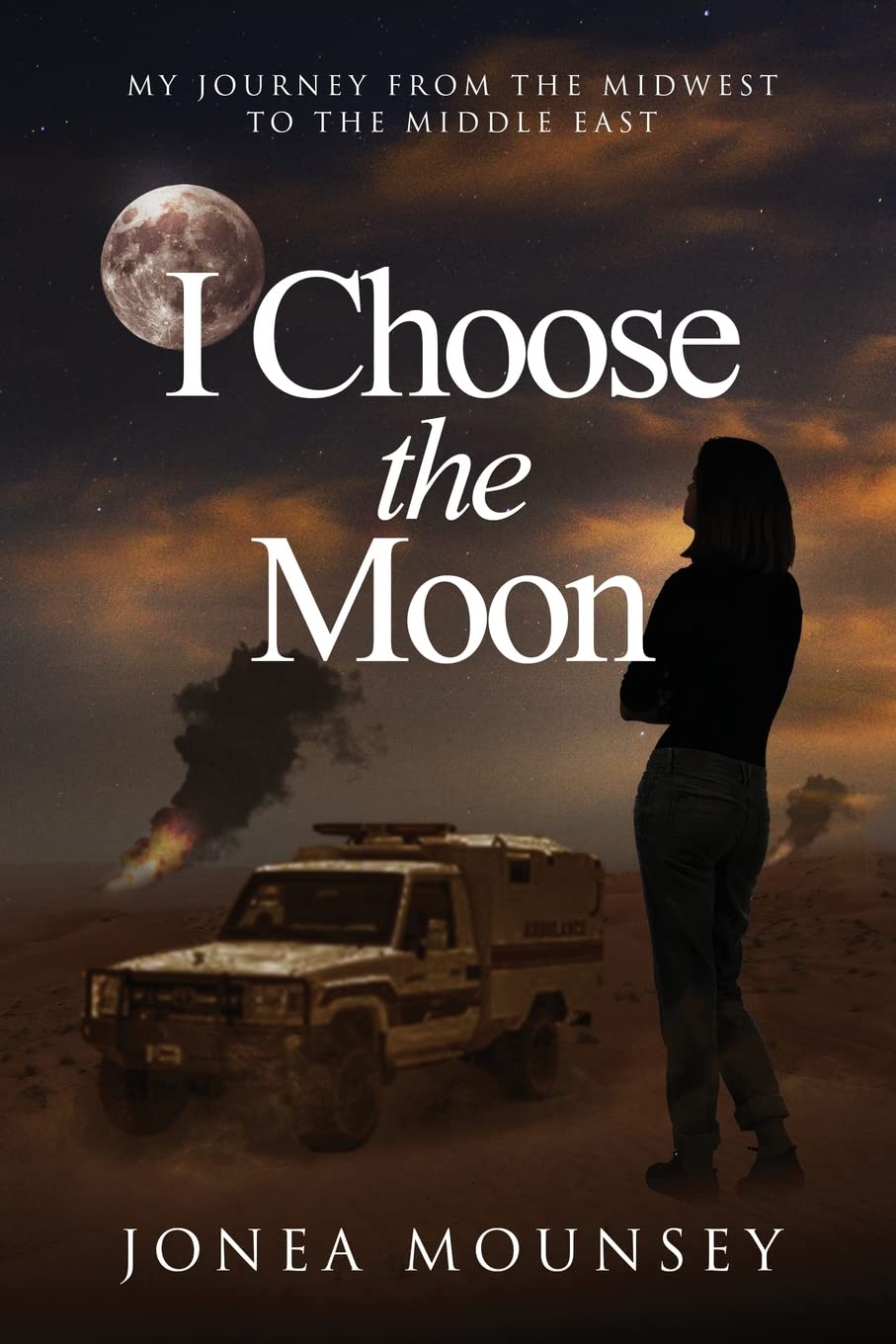 "I Choose the Moon: My Journey from the Midwest to the Middle East" by Jonea Mounsey has been released worldwide. This 432-page memoir tells the incredible story of Jonea's journey from a failing marriage in Indiana to working as a nurse on an oil field in Iraq. Through perseverance, hard work, and the difficult choice to take control of her life, Jonea's dedication to pursuing her dreams is an inspirational look at transformation possible outside the comfort zone.
After growing up in rural Indiana, the author found herself with four young children, a husband that had turned from loving to controlling, and a job working for his business that left her wanting more out of life. Enrolling in just a single nursing class sparked the beginning of a long journey that would eventually bring her thousands of miles from home.
After working her way through nursing school, climbing the career ladder, navigating a divorce, contending with threatening bosses, and more, Mounsey's story of personal and professional success is a testament to her courage and the power of an indomitable spirit.
Throughout the memoir, themes of persistence, accepting cultural differences, and taking care of family are front and center, but the driving lesson is one of pushing to reach potential, even if the outcome is uncertain. Jonea took a chance on herself, stayed consistent in her pursuit of a nursing degree despite setbacks, and found her dream career on the other side of the world.
This hopeful, empowering memoir doesn't shy away from the trials the author faced, but ultimately provides a message that anyone chasing their dreams can relate to.
I Choose the Moon: My Journey from the Midwest to the Middle East (ISBN: 9781958729151) can be purchased through retailers worldwide, including Barnes and Noble and Amazon. The paperback retails for $25.99. Review copies and interviews are available upon request.
From the back cover:
A repressive relationship kept her caged, but her vibrant spirit yearned to break free.
Jonea Mounsey grew up as a rural farm kid in Indiana, where her chores and family obligations competed with her heartfelt calling for adventure. Her loving husband turned controlling, and being obliged to work in a cramped office as his secretary could only go on for so long before something radical had to happen. Summoning all the bravery she could, she left him behind and set out to find a better life.
I Choose the Moon is a memoir of perseverance, discovery, and a passion for helping others. Putting her nursing degree to use in ways she never imagined, Jonea provided remote medical intervention for those out in the wilderness. As if working out in the middle of nowhere wasn't rugged enough, she then took a leap of faith and began serving as a nurse on an oil field in Iraq, a rare woman in a world dominated by men.
By making bold decisions, Jones's life became an adventure as great as her trip up Mount Everest. From trips to exotic locations to long-distance races in exciting wilderness areas, Jonea lets her strong allegiance to family and friends keep her grounded.
Taking hold of her life in the midst of a challenging work environment and different culture during a politically difficult time, Jonea relishes handling new friendships, new opportunities, and even a new romance all on her own. But out in the desert, the scorching temperatures and desolate environment aren't the only adversaries she has to face.
Through it all, Jonea Mounsey trusts her heart and chooses to follow the moon.
"I Choose the Moon is a story of adventure, passion and overcoming obstacles. Jonea's memoir often feels like a work of fiction, as it is astonishing that one person has crammed so much living into one life." – Ryan Murphy
About MindStir Media:
MindStir Media LLC is an award-winning book publisher. To learn more about publishing a book with MindStir Media, visit http://mindstirmedia.com or call 800-767-0531.
Media Contact
Company Name: MindStir Media LLC
Contact Person: Jen McNabney
Email: Send Email
Phone: 800-767-0531
Address:1 New Hampshire Ave Suite 125
City: Portsmouth
State: NH
Country: United States
Website: https://mindstirmedia.com/