BitKeep and Planet IX Unveil "PO100M" NFT, Celebrating 100 Million Milestones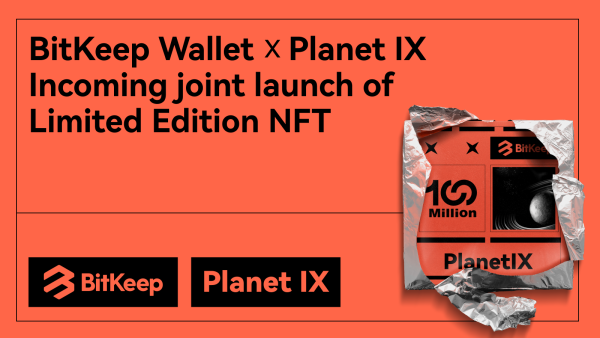 BitKeep and Planet IX are excited to unveil the PO100M NFT, celebrating Planet IX's remarkable milestone as the first ever NFT collection to achieve over 100 million transactions on the Polygon network.
Planet IX, the leading GameFi project on the Polygon network, has witnessed a substantial surge in transaction volume since its integration with BitKeep. At the time of writing, the total transactions of Planet IX's NFTs have exceeded 117 million, with 85% of transactions originating from the BitKeep NFT Market. Notably, the total transactions for a single asset in the Planet IX Assets NFT collection, token #7, has surpassed 100 million on its own, making it the first NFT collection on Polygon to reach this impressive milestone. This asset also accounts for one-tenth of the entire blockchain's activity.
As a key partner of Planet IX, the BitKeep NFT Market serves a crucial role by offering a seamless and efficient NFT trading platform for all Planet IX players. This accomplishment showcases BitKeep's dedication to delivering a seamless and secure trading experience for its users, making it the ideal go-to hub for Play-to-Earn games and NFTs.
In celebration of this 100-million transaction milestone and to express our gratitude to all BitKeepers and Planet IX community partners, BitKeep will be introducing the PO100M commemorative NFT. All players who have traded Planet IX assets can participate in minting these limited edition NFTs for free on the BitKeep Wallet. But that's not all – BitKeep is also distributing free airdrop rewards as part of this commemoration!
Download the BitKeep Wallet now to claim your freemint NFT and airdrops.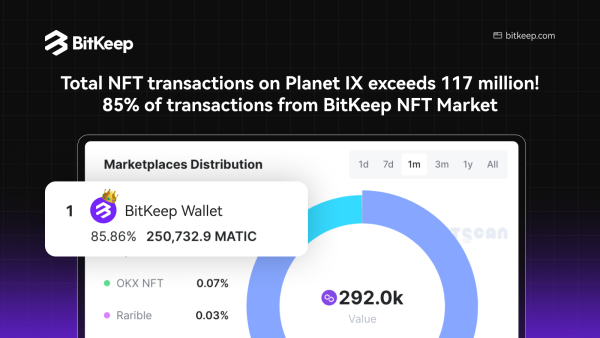 Claim your free Planet IX limited edition NFT and enjoy BitKeep-exclusive airdrop rewards!
To be eligible for the PO100M limited edition NFT, the following criteria have to be met by May 4th, 2023:
Holder of Planet IX NFT, or have traded Planet IX NFT; and
Current $IXT holder, or have traded $IXT.
Please note that each device is limited to one claim, and the PO100M commemorative NFTs can only be minted via the BitKeep Wallet. Successful minters of the PO100M NFT can look forward to additional exclusive airdrops from BitKeep, as well as further GASU and $IXT airdrops!
For more information, visit the campaign page on BitKeep's blog.
The joint collaboration between BitKeep and Planet IX has demonstrated the immense potential of GameFi projects and NFTs within the rapidly evolving blockchain ecosystem. This milestone not only highlights the power of strategic partnerships but also serves as an inspiration for future innovations within the Web3 space.
With its commitment to innovation and sustainable growth, BitKeep is well-poised to take on the mantle of leadership in this rapidly growing market for decentralized gaming and collectibles.
About BitKeep NFT Market
BitKeep NFT Market is one of the top-rated mobile NFT marketplaces on the Google Play store globally. With over 51,000 monthly active users and more than $31 million in total trading volume since its launch in March 2022, BitKeep NFT Market is one of the largest NFT trading platforms on the BNB chain.
Contact us: Twitter︱Telegram︱Discord︱Youtube︱Facebook︱Instagram
Disclaimer: This press release may contain forward-looking statements. Forward-looking statements describe future expectations, plans, results, or strategies (including product offerings, regulatory plans and business plans) and may change without notice. You are cautioned that such statements are subject to a multitude of risks and uncertainties that could cause future circumstances, events, or results to differ materially from those projected in the forward-looking statements, including the risks that actual results may differ materially from those projected in the forward-looking statements.
Media Contact
Company Name: BitKeep
Contact Person: Scott.R
Email: Send Email
Country: United States
Website: https://bitkeep.com/