Indonesian Vocalist Luciana-B and Irish Lyricist Gerard Andrews Unite for a Cross-Cultural Musical Experience in 'Amanda'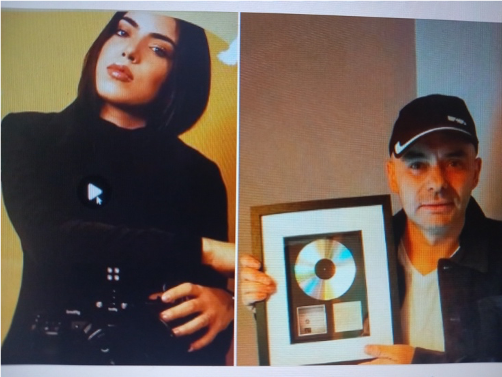 A Melodic Fusion of Talents Set to Entertain Fans on 20th May 2023
The upcoming release of 'Amanda', a new single by Indonesian vocalist Luciana-B and Irish writer-lyricist Gerard Andrews, is generating excitement among music enthusiasts. The collaboration, set to debut on AmazingRadio, GerardAndrews' YouTube channel, and Reverbnation music charts on 20th May 2023, exemplifies the power of cross-cultural collaboration in the world of music.
"United by our love for music, 'Amanda' represents a harmonious fusion of distinct talents and cultures. It's a testament to the power of collaboration and our shared commitment to bring listeners an unforgettable, emotionally resonant experience." – Gerard Andrews and Luciana-B
Gerard Andrews, a celebrated lyricist and writer from Newry City, Northern Ireland, has high hopes for the success of 'Amanda'. He stated, "Working with Luciana-B has been a fantastic experience. Her incredible voice, combined with our shared passion for music, has resulted in a song that will undoubtedly touch the hearts of many."
The creation of 'Amanda' showcases the seamless blending of diverse musical backgrounds. Gerard Andrews and Elias Blu, both skilled lyricists, joined forces to craft the song's captivating narrative. Meanwhile, Luciana-B's stunning vocal abilities elevate the piece, demonstrating the potential for international partnerships in the music industry.
This collaboration follows Gerard Andrews' previous accomplishment with the award-winning song 'Your Red Dress Diane', which gained substantial acclaim. Given this history of success, fans eagerly anticipate the innovative sound and heartfelt lyrics that 'Amanda' will deliver.
To stay informed about the latest developments surrounding the release of 'Amanda' and the ongoing projects of Gerard Andrews and Luciana-B, subscribe to [email protected] and TheLyricWriterGerardAndrewsYouTube. As the countdown to the launch of 'Amanda' continues, the global music community looks forward to witnessing the magic that results from such a remarkable artistic alliance.
Media Contact
Company Name: Andrew
Email: Send Email
Country: United States
Website: https://www.youtube.com/channel/UCtK4N0eZLL3_mD4CX3FGwKA