Bradley W. Rito's A Balanced Apocalypse Recognized as a Finalist in International Book Contest
A Balanced Apocalypse is recognized for its outstanding writing, design and overall market appeal out of thousands of books submitted into the Book Excellence Awards.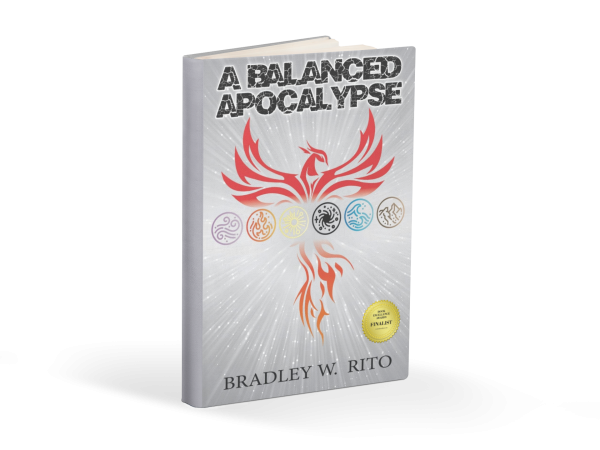 A Balanced Apocalypse by Bradley W. Rito is the masterful first installment of The Void Series. The immersive religious fantasy epic follows four teens, or the Four, each controlling one of the elements of nature, as they fight to prevent the Devil from destroying the world. Along the way, they must learn to trust one another, forgive themselves for past mistakes, and face other personal demons, all to save a world that fears and reviles them. A Balanced Apocalypse was named a Finalist in the Fiction category of the Book Excellence Awards. The awards competition is dedicated to recognizing both independent and traditionally published authors and publishers for excellence in writing, design and overall market appeal in over 100 countries around the world.
"When I first found out I received [the award], I was blown away and breathless…I am still trying to wrap my head around this being reality," says author Bradley W. Rito. An acclaimed author and ordained pastor, Rito bridges the gap between religion and gripping, visionary fiction to approach his writing from a fresh perspective. The result is thought-provoking works that push the boundaries of creativity, storytelling and philosophy. "I believe very strongly in the value of every human's life, the ability for anyone to be redeemed, and the reality of "doing good" being as much a choice as it is part of every human's very nature…my writing is reflective of those beliefs, helping readers to feel better about themselves, to be loving towards others, and to feel confident that "this too shall pass."
The book opens with a flashback to eighteen years prior, when the Seven Seals of the Apocalypse broke and the Devil awoke with only one thing in mind: revenge. With him awoke the spirits of fire, water, wind, and earth, created to lock him and his minions away. Without physical form, the spirits descended into the four infants, with no memory of who they were or their role in Earth's salvation. Eighteen years later, the Devil has fully regained his strength and is ready to seek his revenge against God. An epic journey from exile to redemption, it's up to the Four to stop him before the world falls into utter darkness.
Rito's heart-pounding novel boasts more than just page-turning excitement. The book tackles complex subjects like revenge, redemption and the possible end of the world with grace and acuity, shedding light on how our actions and their consequences shape our lives and future. These compelling ideas are complemented by Rito's captivating style of writing, with many scenes that will keep readers on the edge of their seats. In addition, the main characters are compelling role models that young readers will look up to and be inspired by. Themes of perseverance, accepting vulnerability, and working together for a common cause, tie the work together in a memorable way, showing that if you face challenges with confidence and fight for what is right, you can accomplish more than you ever thought possible.
A Balanced Apocalypse has received positive reviews from some of the most well-renowned literary organizations, authors, and reviewers around the world. One reviewer writes, "The story is well paced with many twists and turns that keep you wondering what will happen next. The characters have been well developed, each with unique backstories that make them relatable and believable to readers." In addition, another reviewer writes, "A stunning start to The Void Series, A Balanced Apocalypse combines Christianity's take on creation and the end of the world with a unique, superhero twist."
Fast-paced and engaging, A Balanced Apocalypse is an extraordinary work of religious fantasy fiction. Available for sale on Amazon, Barnes & Noble, Apple iBooks, Kobo, Nook and Google Play, readers looking for an epic tale of retribution and salvation are encouraged to purchase their copy today: https://www.amazon.com/Balanced-Apocalypse-Book-Void/dp/1957203684
About the Author
Bradley "Brad" Rito is a full-time ordained Minister of Word and Sacrament in the Presbyterian Church (U.S.A.). He received his Bachelor of Arts in Creative Writing from Central Michigan University in 2012 and his Master of Divinity from Pittsburgh Theological Seminary in 2015. Outside of his ministry, he is an avid writer, having written one published novel, two unpublished sequel novels, and a book of poetry. He also has a number of side hobbies, including music, games, acting, and reading. To learn more, please visit: https://www.bradleyritobooks.com
Connect with Bradley W. Rito on Social Media
https://www.facebook.com/rev.rito
Media Contact
Company Name: Author News Network
Contact Person: Media Relations
Email: Send Email
Country: United States
Website: authornewsnetwork.com