LatamDate Finds Out That Singles Prioritize Stability In Dating
Stability is the new standard for singles to seek the future matches. LatamDate, an international dating website, analyzed the priorities of its users and found that stability is at the top of their list. Maturity, commitment, and emotional support are extremely attractive in 2023.
Although it may seem unexpected considering we are living in the era of social media where photos, videos, and conventional beauty standards are at their peak, a leading dating site LatamDate finds that singles started to prioritize other qualities over physical appearance.
It all started in 2020 when quarantine measures all around the world forced people to stay inside. It was at that time that singles realized they need more than just attractive people by their side. Photos of Instagram models and Hollywood stars were still on the internet but that could not fill the void of loneliness. In fact, many people that were dating someone primarily because of their physical appearance found themselves not fulfilled with that criteria anymore and it helped them set other priorities for their future relationships.
If not beauty, what do singles care about?
Humans generally have the need to feel understood, accompanied, and safe with their partners. Emotional maturity is significantly more appreciated now. Namely, people who used to choose partners based on their looks did not have a good time overall once the "magic" was over. Only when they were not mesmerized by the beauty anymore, they realized that the relationship is not functioning properly and the personalities of them and their partners are not working well together. When that happens, even a "beautiful" person doesn't seem so beautiful anymore if the personality doesn't match it.
Singles look for compatible partners.
When personalities are compatible, relationships progress effortlessly. People with negative dating experiences feel renewed once they date someone they are truly compatible with. While some differences are normal and healthy, too many differences make two people feel misunderstood and alone, even if they are in a relationship. It's important to note that there are several types of differences. If partners disagree on minor things, they don't have the same habits and have some different views, that is okay. Compromising in a relationship is mandatory and learning from one another is beneficial. However, if partners have completely different values, visions, and behaviors, problems are imminent. For that reason, in 2023, singles are looking for compatible souls; someone they can share their dreams and goals with and they can go through life comfortably.
Stability is the new standard.
Singles do not have time for mind games and people unprepared for commitment. LatamDate, an international dating website, analyzed the priorities of its users and found that stability is at the top of their lists. Maturity, commitment, and emotional support are extremely attractive in 2023. Therefore, people who are not ready for such dedication will not have much luck with singles who prioritize those factors.
Of course, some people are openly stating they are not ready for commitment and that is okay, as long as they are honest about their intentions. However, the benefits of a stable relationship are incredible, and considering that LatamDate has a large user base with people all around the world, everyone should use the opportunity to find their matches they will feel comfortable with and they can plan a future together. A healthy relationship brings the positivity and encouragement that everyone needs daily. Stability is the foundation of enlightening feelings and events. Thus, LatamDate invites singles who are also looking for healthy relationships to try out its services and find their soulmates.
About LatamDate.com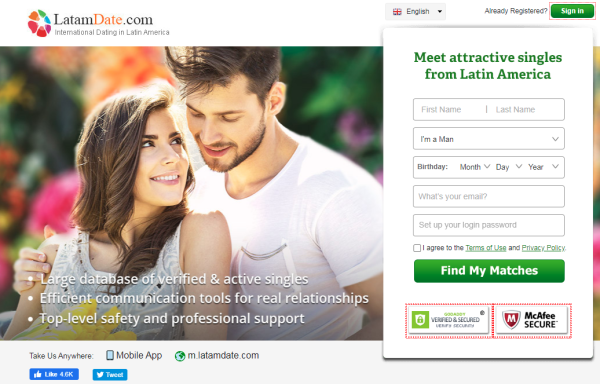 LatamDate.com is an international dating website, primarily connecting Latin singles with people worldwide. The platform utilizes advanced tools to make the user experience enjoyable and easy. Apart from the standard Live Chat, members of LatamDate.com can use Love Call, Video Show, and EMF Mail features.
Media Contact
Company Name: LatamDate
Contact Person: Media Relations
Email: Send Email
Country: HongKong
Website: http://www.latamdate.com