BeaverLAB is introducing its B1600 professional electric microscope with 1600 times ultra-definition magnification and 9″ touch screen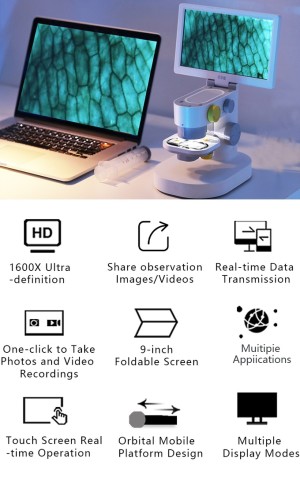 BeaverLAB, a Hongkong-based manufacturer of first-class microscopes, is introducing its B1600 professional electric microscope with 1600 times ultra-definition magnification and 9In' touch screen.
The microscopy market is flourishing at the moment. This market growth is driven largely by factors such as favorable funding scenario for R&D in microscopy, and rising demand for electron microscopes in applied industries (such as semiconductor manufacturing). The microscopy market is projected to reach USD 8.9 billion in 2026 from USD 6.5 billion in 2020, at a CAGR of 5.6% during the forecast period and BeaverLAB is set to be at the forefront of this growth with its world-class microscopes.
The B1600 from BeaverLAB is replete with innovative features designed to meet new levels of the modern day science and technology. The B1600 was designed in such a way that the connection between the self-contained computer software and the microscope can directly realize the observation on the computer. This makes it easy to connect with the screen-throwing equipment to realize the observation of multiple people at the same time.
BeaverLAB put some thought into the user interface of the B1600. The folding screen is designed with toughened glass, which is easy to clean and durable enough to last for years on heavy usage. The tablet pressing adopts a magnetic design, which allows easier installation and disassembling.
Some of the incredible features of BeaverLAB's B1600 includes:
• 1600X Ultra-definition
• Share observation Images/Videos
• Real-time data transmission
• One-click to Take Photos and Video Recordings
• 9-inch Foldable Screen
• Touch Screen
• Real-time Operation
• Orbital Mobile Platform Design
• Multiple applications
• Multiple display modes
Speaking about the B1600, Fei Hong Fang, the CEO of BeaverLAB said: "When BeaverLab is connected to a computer, real-time data can be easily transmitted, and pictures and videos stored in BeaverLab can be exported at any time. At the same time, you can see the remaining capacity in the microscope memory card. We designed it with a 9-inch foldable screen, so you can achieve real-time observation."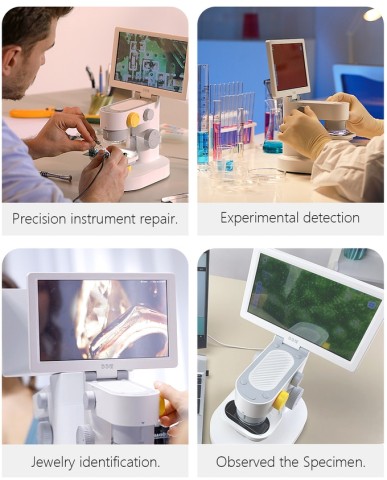 B1600 uses an orbital mobile platform design instead of the traditional Vernier caliper, which makes it easier to capture images and increases the fun of the observation. The touch screen comes with 32GB of memory, which can be directly photographed and recorded with one button.
BeaverLAB was originally a company that started making children's versions of microscopes in order to cultivate children's interest. But with the study and understanding of the microscope, the founder, Fei Hong Fang found out that not only children, but adults also do not know much about the micro world. The purpose of making professional high-quality microscopes is to make more people fall in love with the magical micro world.
BeaverLAB knows that a very professional optical microscope needs to cost a lot. However, the company hopes to use a professional microscope with low price but high quality to facilitate the needed observation in people's work and life.
To have an in-depth look at the BeaverLAB's B1600 professional electric microscope, checkout the company's page on Kickstarter.
Media Contact
Company Name: B1600
Contact Person: Fei
Email: Send Email
Country: China
Website: https://www.kickstarter.com/projects/b1600/b1600-experimental-professional-microscope-ultra-clear-i?ref=discovery&term=B1600