Innovative Deep Tissue and Muscle Massager Relieves Tension on The Go
This self-massager feels like you're being massaged with hands, unlike the ones where it just massages you without any results. This massager will make you comfortable and relaxed.
January 13, 2022 – Happyroom Hueplus is glad to announce that its Deep Tissue Muscle Massager is now available for purchase on the Amazon store. The Hueplus Deep Tissue Muscle Massager features a patented tension technology that will make you feel comfortable and relaxed.
At any point in time, one can feel pain and tenderness, and it's more likely to happen to individuals that spend substantial time in the office or hunched over workstations. Wrong postures at any time can place undue stress on muscles and tendons, thereby interfering with blood circulation. The Hueplus Deep Tissue Muscle Massager works to gently restore blood flow and ease tensions of joints and muscles.
The Hueplus Deep Tissue Muscle Massager with Heated function represents a major innovation for the relief of soreness and tension. It utilizes a special patented technology called "tension technology" so that the massage can feel like it's been carried out using the human finger joints of a massage therapist.
Consumers no longer need to settle for bulky, uncomfortable devices that won't even produce the desired result. The Hueplus Deep Tissue Muscle Massager boasts a sleek and streamlined design for luxurious comfort. Those suffering from stress, tension, and sore and achy muscles can choose from 8 improved individual massage modes with superior deep massage capabilities to target all the hard-to-reach muscles thereby getting a perfect massage every time.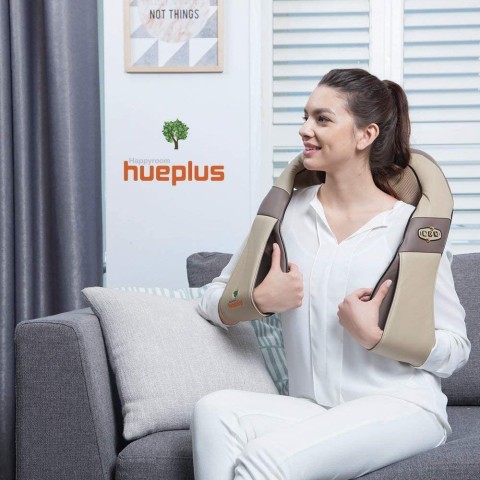 The Hueplus Deep Tissue Muscle Massager has a very low noise making it ideal to be used anywhere. You can use it in the office, school, home, and even in your car as it comes with a car adapter. What's more, you can also use it on other parts of the body apart from the neck and arms. You can use it to massage your waist, back, legs and feet.
Some users have purchased this product and conveniently enjoy therapeutic hand massage and heat pain relief and can't stop talking about it. "I use this massager before I sleep, or during watching TV on my couch. You can use it around the neck and shoulder area, even the sole of your foot. A heat on and off switch is a very smart option and automatically reverses direction. Highly recommended," Hellokimi commented.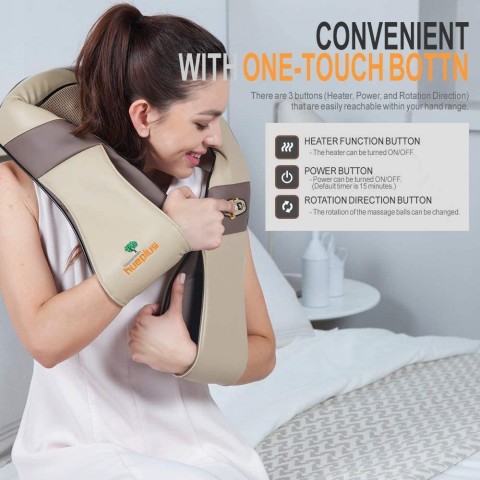 The Hueplus Deep Tissue Muscle Massager is currently available on Amazon with a 100% Customer Satisfaction Warranty to ensure that each purchase is absolutely risk-free.
More information about the Hueplus 2020 Deep Tissue Muscle Massager can be found on the Amazon product page.
To order the Hueplus Deep Tissue Muscle Massager, visit https://www.amazon.com/dp/B073RVX6Z8.
About Happyroom Hueplus
Happyroom Hueplus is a Korean company that is committed to helping people living in the modern world maintain a healthy body and mind to improve daily life. Through self-conditioning tools that can be easily incorporated into everyday life, the company aims to create a world where everyone can simply and easily live a happy and healthy everyday life. The company provides easily accessible and user-friendly products at competitive prices, as well as great customer service.
For further information about the company or its products and services, please visit http://www.ihueplus.com.
Media Contact
Company Name: Happyroom Co., Ltd
Contact Person: Andy Hong
Email: Send Email
Phone: 123-81-71302
Country: South Korea
Website: www.amazon.com/dp/B073RVX6Z8