Zigs Nation Digital Network Rated #1 Top Startup Tech Company For Kids to Watch in 2021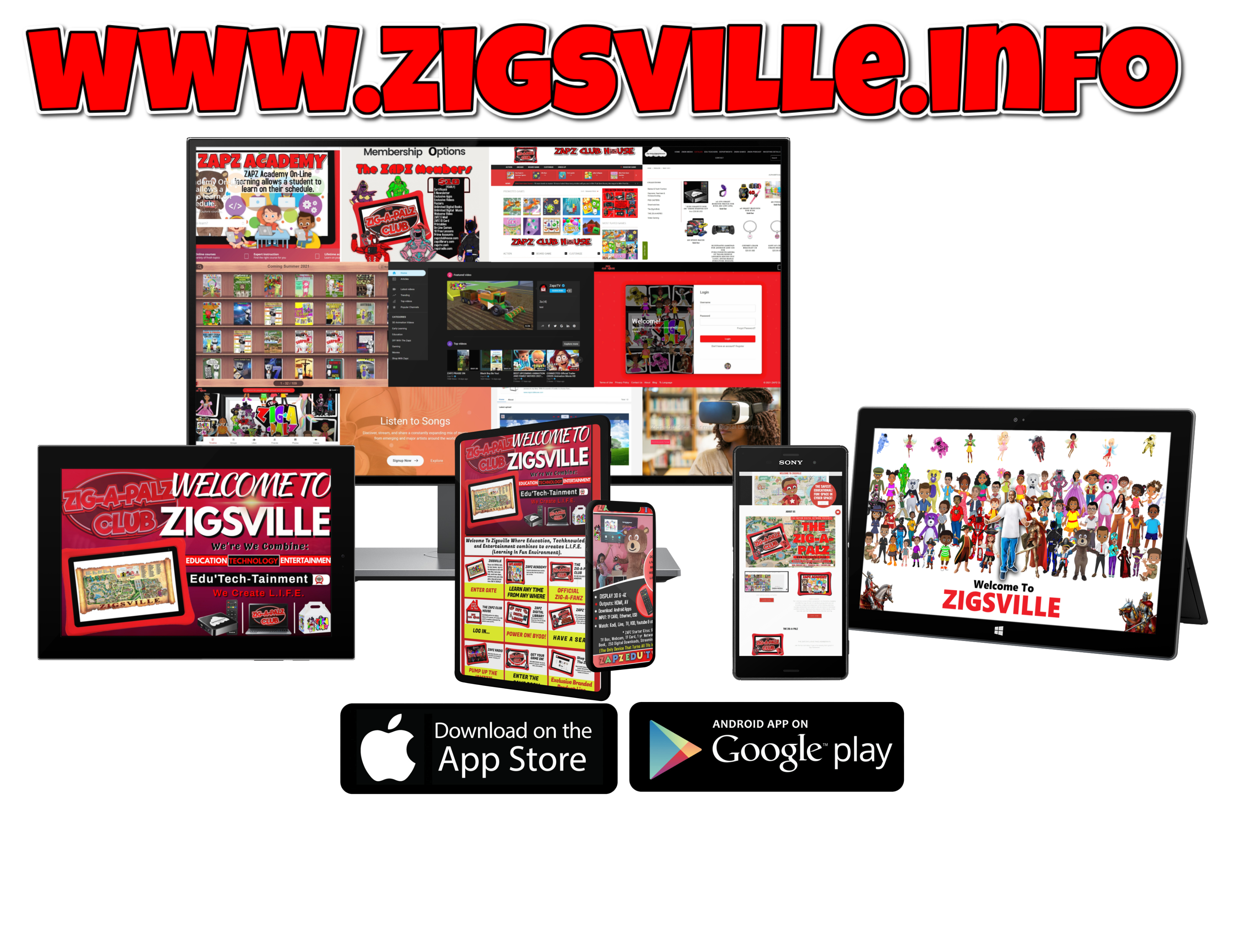 ZIGSVILLE is where kids happily learn and imbibe rich learnings while having fun. The education portal's unique strategy of blending entertainment and technology has won praise from all quarters. The latest recognition comes from the I.T.M. magazine, which has rated ZIGSVILLE as the #1 startup tech venture for children for the year 2021.
There is always a lot of new things to see and learn at ZIGSVILLE! The International Tech Magazine gave it a first place at its recently held Tech & Gadgets 2019-2020 Independent Technology Company Pitch Competition. According to the I.T.M. magazine, Zigsville.info is the safest educational fun place in all of the cyberspace for kids with their very own licensed characters. The award brings to fruition over five years of efforts in making the portal the go-to place for all children to learn and have fun.
Founder Mr. Shuantae Bellamy has also pre-launched to the public a total of nine websites offering Education, Technology, and Entertainment. One of the prime products offered by Zigs Nation Digital Network is their Smart Edu'Tech Box. This is an all-in-one smart box, phone, computer, gaming system, classroom, and more. The Smart Edu'Tech Box is one of the most powerful android devices available on the market.
Mr. Bellamy said, "Our partnerships, from manufacturers to streaming networks, have placed us in a great position to establish our digital footprint. We aim to reach audiences worldwide, and our goal is to educate our viewers in an advanced and thrilling way that no other company can offer as we do."
The Zigs Nation Digital Network (Z.N.D.N.) also has its very own exclusive branded product line consisting of products such as gaming headsets, gaming controllers, AR gaming app, AR puzzles, cellular service, mobile phones, tablets, parental device control apps, 4G GPS smartwatches, digital downloads, mobile caster, virtual/augmented reality apps and so much more!
As digital books get more popular and are in heavy demand by teachers, this has put the ZAPZ Library ahead of others. With over 1500 publications, The ZAPZ is leading the way. Mr. Bellamy has rejected many partnership offers, even from a big company like Walt Disney, to which he has sold a character related to Sesame St. For early access to unlimited content, "The ZAPZ Pass" is available, and can be used to download content or as a ZAPZ Discount Lifetime Card.
Z.N.D.N. Is currently conducting a fundraiser (https://www.gofundme.com/f/zapz-edutech-center) to open up a developmental and training facility that will house their products showroom, technology development laboratories, media studio, and classrooms and to offer youth technology-based programs.

Zigsville recently grabbed the attention of Jack Ma, who has often been heard speaking of Zigsville Products as he's seeking to offer it to children in China, where ZNDN Media has a partnership with Mr. Kenny Lee of B&K Electronic Technology Co., Ltd.

Digi-Tech has also rewarded Mr. Bellamy with a $150,000 Banding Marketing Package to help introduce ZIGSVILLE to children.
To learn more about Zigs Nation Digital Network or for an interview, please call Mr. Shuantae S. Bellamy at 407-202-7964 or send him an email at: [email protected] For more details about the websites, please visit www.zigsville.info
Click for more details: https://www.zapztv.com/v/4Mw9Ef
For more information, please visit: www.zigsville.info
Media Contact
Company Name: Zigs Nation Digital Network
Contact Person: Mr. Shuantae Bellamy (HOPE)
Email: Send Email
Country: United States
Website: http://www.zigsville.info