Controversial Film 'Canaan Land' by Richard Rossi Released in Novel, Audiobook, and Film Format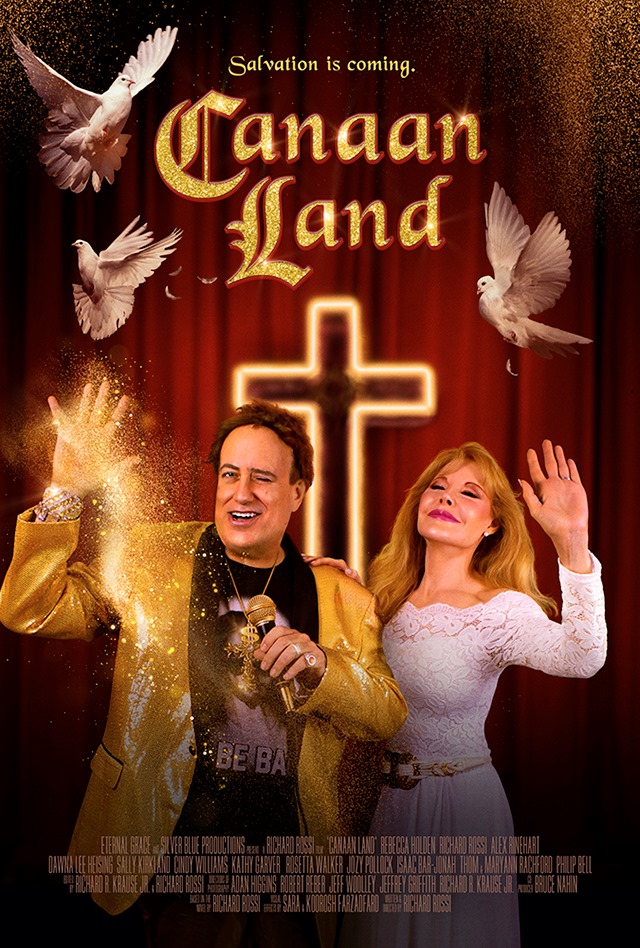 Sometimes, the greatest battle is between the flesh and the spirit. Is there redemption for televangelists who claim to be miracle workers, and lure people with stage-managed gimmicks to deceive and earn donations? That answer can be found in the film and novel "Canaan Land", written and directed by Richard Rossi, a 21st Century telling of an archetypal, Elmer Gantryesque story to be released soon as a film through screenings and streaming. The novel format of the story is already available on Amazon and as an audiobook.
"Canaan Land" pits televangelist, preacher, and phone psychic Brother Gantry with a true believer, Sister Sara Sunday. While Sara is a devoted and sincere believer in God, Brother Gantry's focus is on receiving offerings, donations, and creating a larger ministry. The real action begins when he falls in love with Sara. Will he rediscover true faith? Or will Sister Sara fall into the devil's trap?
"Canaan Land" is a raw and authentic look into the workings of miracle industries that lure people. A religious film for the rest of the people, and a film that the secular audience will like, the movie comes with the message of "always keeping one's eyes on God and exercising good judgment while choosing spiritual leaders. Leaders are human and disappoint us. Only God can provide perfect, unconditional, unfailing love," actress Rebecca Holden said. Holden plays the role of Sister Sara.
"I will finish 'Canaan Land' and show it to all of you willing to watch. They're worried my film will shake things up. I would rather be criticized by the modern-day Pharisees than ignored," says Richard Rossi, who plays the part of Brother Billy.
"'Canaan Land' shows how a person comes to faith, real faith. It filled me with love for Jesus and walking with Him. The end is amazing and shows the power we have," says novelist Katie Andraski.
'Canaan Land' is an eye-opener, as it exposes the fake and the counterfeit so that believers can embark on their genuine search for the pure and the authentic. The presence of the counterfeit is only a testimony to the presence of the real anointing that will set everyone free. That's also the fate of Billy, who comes to realize that his con game isn't a game anymore.
"'Canaan Land' is my coming out as a former fundamentalist who can no longer subscribe to their beliefs in a hateful, angry monster god and their self-righteous practices. My story is my repentance and the character I play repents. I'm going to publicly challenge the biggest names in religion to repent and give back the money they've ripped off from the poor," says Rossi.
The novel format of CANAAN LAND is available on Amazon, and proceeds will go towards the distribution of the film. The film version is currently an entry in the 2021 Oscar competition.
Buy from Amazon: https://www.amazon.com/dp/B0875YZD9W/ref=sr_1_3?dchild=1&keywords=canaan+land+richard+rossi&qid=1587232819&sr=8-3
Kindle Version: https://www.amazon.com/Canaan-Land-Richard-Rossi-ebook/dp/B087BMC4LL/ref=tmm_kin_swatch_0?_encoding=UTF8&qid=1587232819&sr=8-3
Listen to FREE Audible audio sample here:
https://www.audible.com/pd/B088VR3GJ8/?source_code=AUDFPWS0223189MWT-BK-ACX0-196906&ref=acx_bty_BK_ACX0_196906_rh_us
Media Contact
Company Name: Eternal Grace
Contact Person: Richard Rossi
Email: Send Email
Country: United States
Website: https://www.canaanlandmovie.com