FanBell's Blood Pressure Monitor Shows the Health Status at Every Minute
If the doctor recommends someone to buy a blood pressure and pulse checker and use at home, he might be wondering why? The good thing about an at-home blood pressure monitor will give their health provider a better insight into the daily changes of his blood pressure, heart rate along with the pulse rate on the wrist. This is a better option than getting immediate readings when he visit their office, because it not only saves them from the hassle of taking frequent trips to doctor's clinic every week or so, but at the same time the doctor gets a more comprehensive and complete picture of their health. When looking for the best blood pressure monitor, they need to shop for something that is compact, gives reliable results and is easy to use.
Pain Relief and Everyday Care
FanBell Blood Pressure Monitor and BP Heart Rate Checker with Wrist Pulse Arm Meter Machine Cuff is a well-rounded option. Not only is it wireless, but it comes with a wrist type model which he can use for simple operations by just one button. Pressing the button gives an instant and accurate measurement of pulse and blood pressure. It is ideal for daily blood pressure monitoring because it has an optimum system for cuff inflation and can give BP checks in both mmHg and kPa.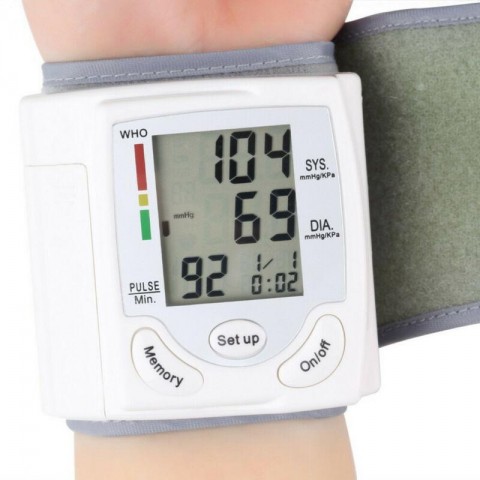 Moreover, the device has a well-lit screen which shows the readings in large digits making navigation easier. It also has the added feature of the device taking three consecutive readings for people in order to find the average blood pressure.
Fanbell wrist blood pressure monitors also have an irregular beat detection system which notifies them through the monitor screen when there is any alarming activity seen. With its clear and large LCD display, they readings will always be easy to read. Not only that, but the blood pressure device also features high and low pulse detection and alerts at once if the pulse is going too high or too low. Also get a warning heart blinker that shows that the blood pressure device is in the process of taking readings.
Product Specifications
After opening the package, it will be greeted with a plastic-based monitor that is run by 2 triple-A batteries. For the measurement accuracy, the digital blood pressure device measures blood pressure within the range of 20-280 mmHg and pulse rate within the range of 40-165 beats per minute. In terms of accuracy, the device is highly sensitive to readings giving you an accuracy within 3mmHg for blood pressure and a pulse rate accuracy within 5% of the original reading. Moreover, the wrist meter also has a circumference of 135mm-195mm making it feasible to use for any wrist size.
The Home Health Manager:
• Fully automatic;
• Clinically accurate;
• It has an adjustable cuff;
• Get storage box to keep BP device safe along with a guarantee of one year.
For more assistance, please contact the customer service for help.
Media Contact
Company Name: FanBell
Contact Person: Cecilia
Email: Send Email
Phone: 13580383996
Country: United States
Website: fanbell.net