Author's first book is an inspiring journey from orphanage to missionary in 5 countries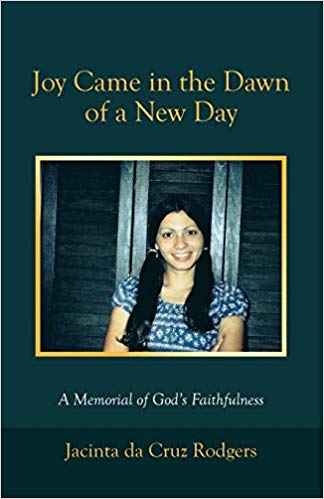 West Melbourne, FL – Feb 18, 2020 – Jacinta da Cruz Rodgers autobiography is a story of hardship and heartbreak tempered by exotic adventure and the beauty of faith. Jacinta's story begins in an orphanage. Hardship and deprivation were all she knew as a child. Like many orphans and deprived children, Jacinta's never grew up hearing the word love. She, along with the other children in her orphanage only knew the relentless discipline imposed on them. It wasn't until she left on her first mission to a remote part of Brazil that life began to change for the better.
The book's adventure, and Jacinta's life, takes an exotic twist as she recounts her next move to the Caribbean island of Bonaire, just off the Venezuelan coast. An island filled with colourful flamingoes. It was in her next home, and on her next mission, in Swaziland, where Jacinta came to know the meaning of love first-hand as she met and married her husband Dave. While always sure of God's love, it was in her marriage that Jacinta felt stability and the purpose of her mission from God.
"For years, any time I told people about my life, they would tell me that I should write a book. I never thought that I could do it," laughs Jacinta's "I came to realize that I had to write this book. I had to explain to people that they should change the way they view orphaned and homeless children. Someone viewed me with compassion and it changed my life. I am forever grateful for that and I hope to bring the same kind of opportunity and faith to my children," says Jacinta.
Her first book, Joy Came in the Dawn of a New Day: A Memorial of God's Faithfulness, which was launched in 2019, is an inspiring story of not only the twists and turns of Jacinta's life as she traveled and lived in five countries, but also an inspirational and joyful exploration of the beauty of her faith in God's love.
The book is published by WestBow Press and is available at various booksellers and through online retailers where it has received five star reviews from reader.
A portion of the proceeds of the sale of the book will go to the Children's House of Hope in western Kenya.
Title: Joy Came in the Dawn of a New Day
Sub Title: A Memorial of God's Faithfulness
Date Published: 5/31/2019
ISBN: 978-1-9736-5495-7 (hard cover)
Book's Genre: Christian Biography
For more information, or to arrange an interview please contact:
Jacinta da Cruz Rodgers
PHONE: 3473918843
EMAIL: [email protected]
Media Contact
Company Name: LightFromTheWord.com
Contact Person: Jacinta da Cruz Rodgers
Email: Send Email
Phone: 3473918843
Country: United States
Website: LightFromTheWord.com