TRICOAST WORLDWIDE SKYROCKETS TO AFM WITH SCIENCE FICTION VS. SCIENCE FACT
Alien sci-fi titles, 'CASE 347' and 'WOW SIGNAL', head to AFM.
Los Angeles, CA – Nov 8, 2019 – TRICOAST WORLDWIDE boards world sales for two alien sci-fi titles, 'CASE 347' and 'WOW SIGNAL', announcing U.S. release dates in 2020.
CASE 347:
Directed and written by Chris Wax (Black Box, Irish Eyes), CASE 347 is a found footage alien-horror based on a collection of recently discovered footage from a CIA archive as a result of the Freedom of Information Act. Following two documentary filmmakers who believe alien abduction claims are forms of "mass hysteria", their discoveries take a turn for the worst when the crew starts to disappear one by one.
CASE 347 stars Chris Wax, Maya Stojan (Castle, Agents of S.H.I.E.L.D.), Jason Kropik (Easy A), Edward Finlay (2 Fast 2 Furious, Brooklyn Nine-Nine), two-time award winning actor, Michael Galante (Boy Meets Girl, Switched at Birth) and longtime actress, Krista Allen (Baywatch, Anger Management).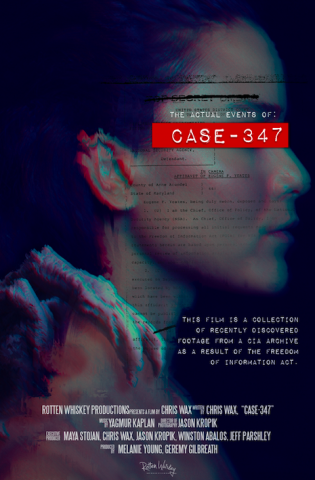 WOW SIGNAL:
Directed by multi award-winning director, Bob Dawson (The Passion of Paul Ross, ABC: Extreme Home Makeover), WOW SIGNAL documents a night in 1977 where Ohio radio astronomers discovered a strong, interstellar signal that is believed to be our world's best evidence of communication from an extraterrestrial civilization. As its origins remain a mystery and continue to intrigue, WOW SIGNAL explores today's ongoing search for extraterrestrial intelligence and those who believe that actual evidence of intelligent life beyond our own, and outside our grasp.
Receiving various official selections and finalist accolades, WOW SIGNAL was awarded Best U.S. Documentary Feature at LATCA 2018. The science documentary stars Jerry Ehman (Astronomer at the University of Michigan), Karen O'Neil (Site Director National Radio Astronomy Observatory), Seth Shostak (Former director of SETI) and Michael Holstine (Former Director National Radio Astronomy Observatory; Child of God, Angel's Perch).
The 2018 American Film Market will be held from Nov. 6th – 12th. For additional information about TriCoast Worldwide, please visit booth #810 at the Loews Santa Monica Beach Hotel.
To schedule a meeting, please contact [email protected] and for press inquiries, please contact [email protected]
For more information, please visit: https://www.thefilmcatalogue.com/companies/tricoast-worldwide.
About TriCoast Worldwide:
TriCoast Worldwide is a premium International sales agent, representing the best of US and international films at all the major film markets. Sister company to TriCoast Entertainment and TriCoast Studios, the company is located at the Studio facility in Culver City, Los Angeles.
Founded by: Strathford Hamilton and Marcy Levitas Hamilton.
Media Contact
Company Name: TriCoast Entertainment
Contact Person: Jenna Wilen
Email: Send Email
Phone: 3104587707
Address:11124 Washington Blvd.
City: Culver City
State: California
Country: United States
Website: http://www.tricoastworldwide.com