What Makes America Great by Bob Dowell – a Historical Narrative Validating America's Exceptionalism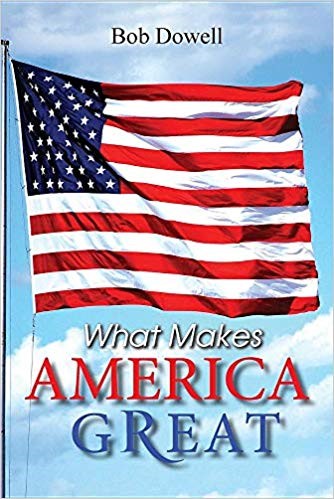 McAllen, TX – September 3, 2019 – America is unquestionably a great country, a fact confirmed by its history as Bob Dowell validates in his succinct narrative entitled "What Makes America Great." Beginning with reference to the Reformation having birthed America and the Puritans having laid the cornerstone for shaping a God centered commonwealth, the narrative continues chronologically by referencing key leaders and literature for purposes of documenting the exemplary progressive development of America from colony to country to contemporary 2019. Dowell credits John Winthrop's biblical "city upon a hill" as being America's exemplary vision, a vision incorporated in the equality creed of our Declaration of Independence: a creed declaring equality for all because all "are endowed by their Creator with certain inalienable rights, [and] that among these are life, liberty and the pursuit of happiness."
Dowell makes the case that attempting to convert this exemplary equality creed into reality constitutes the essence of America's history. Of course, not all attempts have been perfect, for the task has been a difficult one: prime example: a bloody civil war to eradicate slavery was followed by a prolonged civil rights struggle. Yet, despite all obstacles and conflicts, the exemplary has, for the most part, prevailed thanks to great leaders stepping forward at crucial points in our history. "What Makes America Great" references a trove of documents confirming the contributions of these great leaders. Among leaders referenced and discussed, besides John Winthrop, are Benjamin Franklin, Thomas Jefferson, Elizabeth Cady Stanton, Abraham Lincoln, and Martin Luther King Jr. Among the trove of documents referenced and discussed, besides The Declaration of Independence, are "Model of Christian Charity," "Of Plymouth Plantation," "The Mayflower Compact," "The Way To Wealth," "The Declaration of Sentiments," "The Gettysburg Address," and "I Have A Dream."
"What Makes America Great" doesn't attempt to preach America's greatness; it simply narrates how exemplary events of history have come together in developing an exceptional nation. In the words of the author, "the book was written to counteract the present barrage of partisan railing against America by providing readers a historically documented perspective on our nation's development."
For more information, visit Amazon book link https://www.amazon.com/What-Makes-America-Great-Dowell/dp/1950540715/ref=sr_1_1?keywords=9781950540716&qid=1556814904&s=gateway&sr=8-1
About the Author
Bob Dowell, PhD, brings an engaging freshness to traditional Biblical thought through the creative utilization of various literary genre. In "Understanding the Bible: Head and Heart," he utilizes poetry to facilitate connecting conviction of mind and consent of heart. In "Papa, Tell Us About the Bible," Dr. Bob uses an engaging dramatic framework in which the narrative is filtered through the characters' dialogue, thereby producing an engaging playbook for an individual reader to peruse or for a group to enact. In "Satan and Me and OBE," he presents a riveting story about an out of body experience in which a man visits hell and engages Satan in Biblical debate.
Website: http://understandingtheoldtestament.com/
Social Media Accounts:
Facebook: https://www.facebook.com/authorbdowell/
Twitter: https://twitter.com/authorbdowell
Tumblr: https://authorbdowell.tumblr.com/
About Toplink Publishing
Toplink Publishing offers highly scalable platforms that are growing quickly, positioned to become the global leader in accessible and strategic publishing and marketing solutions. For new book/books to publish or publicize one's published work, contact by calling 1-888-375-9818.
Media Contact
Company Name: Toplink Publishing
Contact Person: Mary Ellen Brown Carlson
Email: Send Email
Phone: 888-375-9818
City: Kelly
State: North Carolina
Country: United States
Website: https://www.toplinkpublishing.com/