Skin Research Institute Introduces Cryotin MD Eye Cream Their Latest and Most Effective Anti-Aging Skincare Product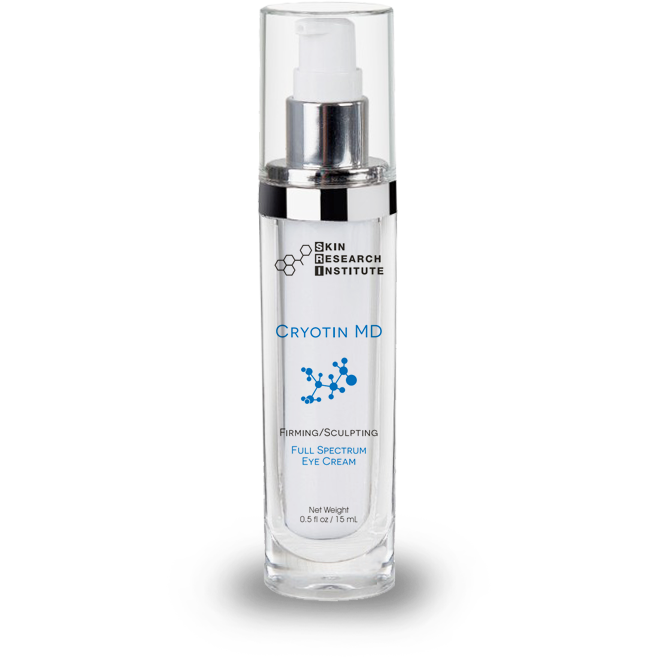 Cryotin MD Eye Cream by Skin Research Institute features 3 clinically-proven ingredients to help target the 3 major signs of aging: wrinkles and crow's feet, under eye dark circles, and eye puffiness
The Skin Research Institute tries to provide consumers with the best in skin and hair health. Founded by a Harvard-educated scientist, they have released numerous highly rated skincare and beauty products over the years and are known for their commitment to hair health. They consistently rank highly for customer satisfaction, and their latest eye cream is no exception
The scientists and researchers at Skin Research Institute have been hard at work crafting a brand-new eye cream that boasts some pretty amazing results. Formulated for women concerned with wrinkles and crow's feet, under eye dark circles, puffiness and eye bags. Cryotin MD Eye Cream sets itself apart from the flooded field of competitors by truly delivering on all areas.
SRI's Director of Research and Development Jennifer Leigh stated "Cryotin MD Eye Cream is by far and away one of the best and most effective products we've ever developed here at SRI. It's a confidence builder for women suffering from that tell-tale tired look. Its gentle yet potent hydrating formula fills in much needed collagen around the eyes leaving behind a refreshed complexion that will make you look and feel amazing. Wrinkles might show our age, but Cryotin shows our wisdom."
Antarcticine™, one of the main three ingredients in SRI's Cryotin MD Eye Cream, helps restore firmness and elasticity to plump wrinkles by promoting collagen production. Syn-ake™ and Eyeseryl™ Peptides are proteins that help gently relax muscles around the eyes while boosting lymphatic circulation to reduce the appearance of both crow's feet and puffiness under the eyes.
The history of the formula actually began in all places, at the edge of the world.
In 1988, a team of Spanish researchers stationed on King George's island in Antarctica discovered a strain of bacteria that would set the course of the future in anti-aging skin care.
As you can probably guess, the extreme cold of the frozen tundra is an intensely harsh environment, and is unfit for life as we know it. Yet the coastline of King George's Island still managed to flourish with a diverse array of thriving plant and animal life in this extreme climate. The research team stumbled on to a breakthrough discovery in that mysterious ecosystem.
Embedded in the icy mud lay an ancient microorganism called Pseudoalteromonas, an extraordinarily resilient strain of bacteria able to withstand the frigid landscape. This rare strain was found to produce a glyco-protein with near miraculous regeneration properties…
A breakthrough discovery in the world of anti-aging skin care had been found. And SRI utilizes that strain with the aptly titled peptide: Antarcticine™ .
"One of the things I love the most about Cryotin MD Eye Cream is how we came to use Antarcticine™ in our formula. It sounds like something right out of a spy thriller but as it turns out, it's really a romance novel, because you will fall in love with your skin all over again once you see the results." smiled Leigh. "Cryotin MD Eye Cream was born in science, perfected in our labs, and was relentlessly tested in human clinical trials. We are proud to say it is cruelty free and safe for all skin types–both women and men. That's right ladies, eye bags know no gender, so share with the husbands once in a while." Leigh added, "Or better yet, get him his own bottle!"
You can read more about Cryotin MD Eye Cream and its benefits here.
Cryotin MD Eye Cream is the perfect complement to many of SRI's line of natural and powerful skincare and haircare products geared toward their philosophy of beauty at any age. It follows a safe all-natural approach to beauty that leaves women with a result driven experience, that usually costs a fortune to duplicate. Like all products at SRI, Cryotin MD Eye Cream comes with a 60-day money back guarantee. They have a hassle-free return policy and a professional customer service department.
"Like all of the products at SRI we guarantee 100% satisfaction," said R&D Director Jennifer Leigh. "That's why we offer our money back guarantee even if the bottle is empty."
You can find out more about SRI and Cryotin MD Eye Cream at their website.
Media Contact
Company Name: Skin Research Institute
Contact Person: Media Relations
Email: Send Email
Phone: (800) 958-1094
Country: United States
Website: http://skinresearchinstitute.com