'Sarah' The Film To Be Released With Crowdfunding To Tackle Mental Illness
"The film 'Sarah' is going to be released and its filmmaker has decided to do it not with the help of big studios, but through the effective application of a digital crowdfunding campaign, the notables of which are supposed to question and transform people's perception towards mental illness."
Nagpur, Maharashtra – Indian filmmaker and screenwriter, Bhushan Mahadani, is announcing the launch of a crowdfunding campaign for a movie called 'Sarah', which will be the first of its kind to be released in this way, and will tackle the question of mental illness that our society faces at this critical juncture.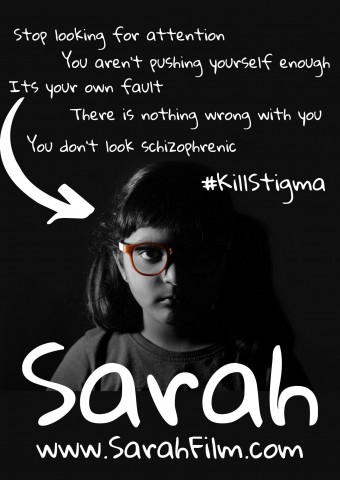 Mental health is a matter of human condition, which can occur among anyone out there. For centuries, the stigma associated with mental illness has made the patients living their lives fairly torturous and miserable, to say the least. Mahadani's aim with the movie is supposed to break and crush all pre-conceived notions and assumptions about the issue at large. It's all supposed to bring about a greater extent of happiness and improved life experiences whose existence is already crushed by the occurrence or advent of the illness, whatever it might be.
The main mental illness tackled in the movie is supposed to be about schizophrenia and shall feature a story that will mirror all the nuances and aspects that go about in real life. The state of mental illness needs to be critically addressed since studies have shown that every sixth person in the world suffers from some kind of the same. The reason that the filmmaker has chosen a crowdfunding campaign is to show the people all around enough people care, and with participation and goodwill, there is practically nothing that cannot be achieved. Blaming the illness for the cases of suffering and misery, instead of the ones who are afflicted is something that needs to be confirmed, and the movie will evoke deep questions about it.
A video that is supposed to serve as a trailer has already been released and can be found at https://www.youtube.com/watch?v=7YhPSdC2cFw&feature=youtu.be. In addition to this, the link where you can go and sign up your promise and contribution to make this altruistic media campaign a true reality can be done through https://www.indiegogo.com/projects/–62456/coming_soon.
About
Bhushan Mahadani is an Indian filmmaker and screenwriter who has been active since 2002 and is a jack-of-all-trades when it comes to different aspects of motion picture media. He has primarily worked in India across a number of TV and film studios over the years and has even taught students in the art and technique of the entire process at large. He has also won 27 different national and international film awards upon such prestigious events as New York International Independent Film & Video Festival, Bollywood & Beyond Film Festival and many more. He's a true believer in the fact that art with the proper message can change and shift people's perceptions, bringing about a significant change in the state of circumstances.
Media Contact
Company Name: Sarah The Film
Contact Person: Bhushan Mahadani
Email: [email protected]
Address:S-9 Dutta Apartments, Laxminagar
City: Nagpur
State: Maharashtra
Country: India
Website: www.sarahfilm.com